Health Office
Greeting from the health office and welcome to the 2020-2021 school year! The goal of our health office is to aid in the health and wellness of your child, by making sure students are current with their vaccinations, are compliant with our illness policies, and to keep your student at school and learning when possible. The health offices at our Great Hearts Academies are staffed by Health Assistants and Registered Nurses. In the event that the school health professional is not present, trained personnel will be delegated to administer medications and respond to medical emergencies.
Nurses and health office staff have been planning for the school year and we want to communicate important information, so families have time to plan and prepare. Please read the information below about immunizations, action plans, and medication consent forms.
Parents/Guardians should notify the school nurse of any changes that arise throughout the school year regarding changes of the child's health status such as: a new diagnosis; new medications given at home; surgery or hospitalizations; fractures or injuries; or communicable diseases in the child or immediate family.
The state requires certain communicable diseases to be reported by the school to provide community assistance if necessary
Vaccinations: The State of Arizona requires that certain vaccinations be given to attend school. Your student's immunizations will be monitored yearly for compliance. Below are the Immunization Requirements.
Please also view our reminder for coming onto campus for students, guests, and volunteers and how processes have changed.
IMMUNIZATIONS:
Download the school immunization requirements
The State of Arizona Immunization Program relies on the school nurses to keep parents informed about immunizations throughout the summer months in preparation for the start of the school year. It is a requirement for 6th grade students or those 11 years and older to receive the Meningococcal and Tdap vaccine. The Meningococcal vaccine provides protection against the Meningitis Bacteria and the Tdap vaccine provides protection against tetanus, diphtheria and pertussis (whooping cough).
As your child turns 11, we ask that you schedule an appointment with your healthcare provider to receive these vaccinations. If they turn 11 prior to the 2020-2021 school year they will be required to have these vaccines to start the 6th grade.  You are welcome to email, fax, or mail a copy of the vaccinations administered to your school nurse or health office staff. Please call, email, or schedule an appointment with the school nurse if you have any questions regarding the vaccination requirements. Please check your child's school website for contact information for the school nurse or health office staff.
It is important to have an updated immunization record prior to your child starting school so that our Great Hearts schools are in compliance with Arizona's State mandates. This applies to those students returning to campus and those who continue with Great Hearts Distance Leaning.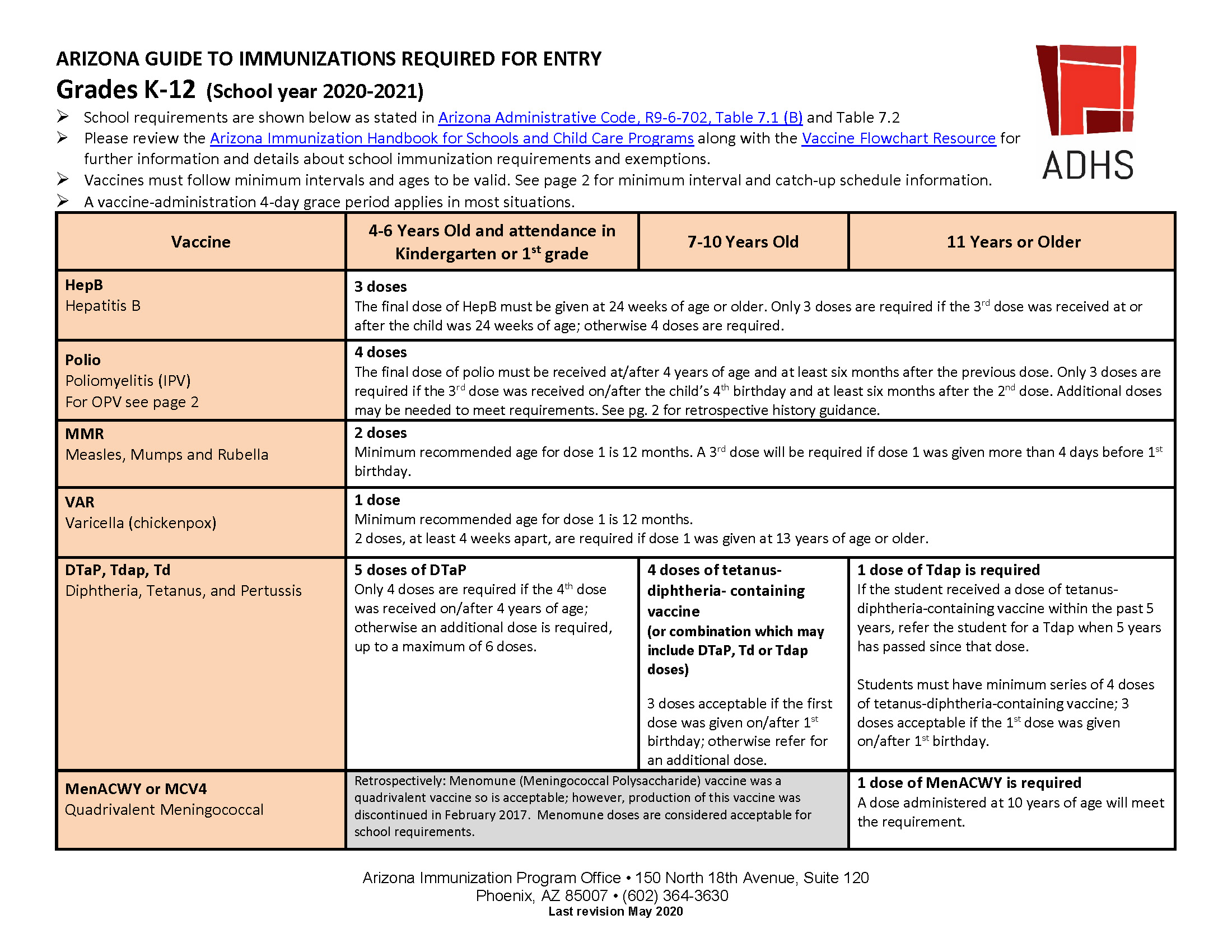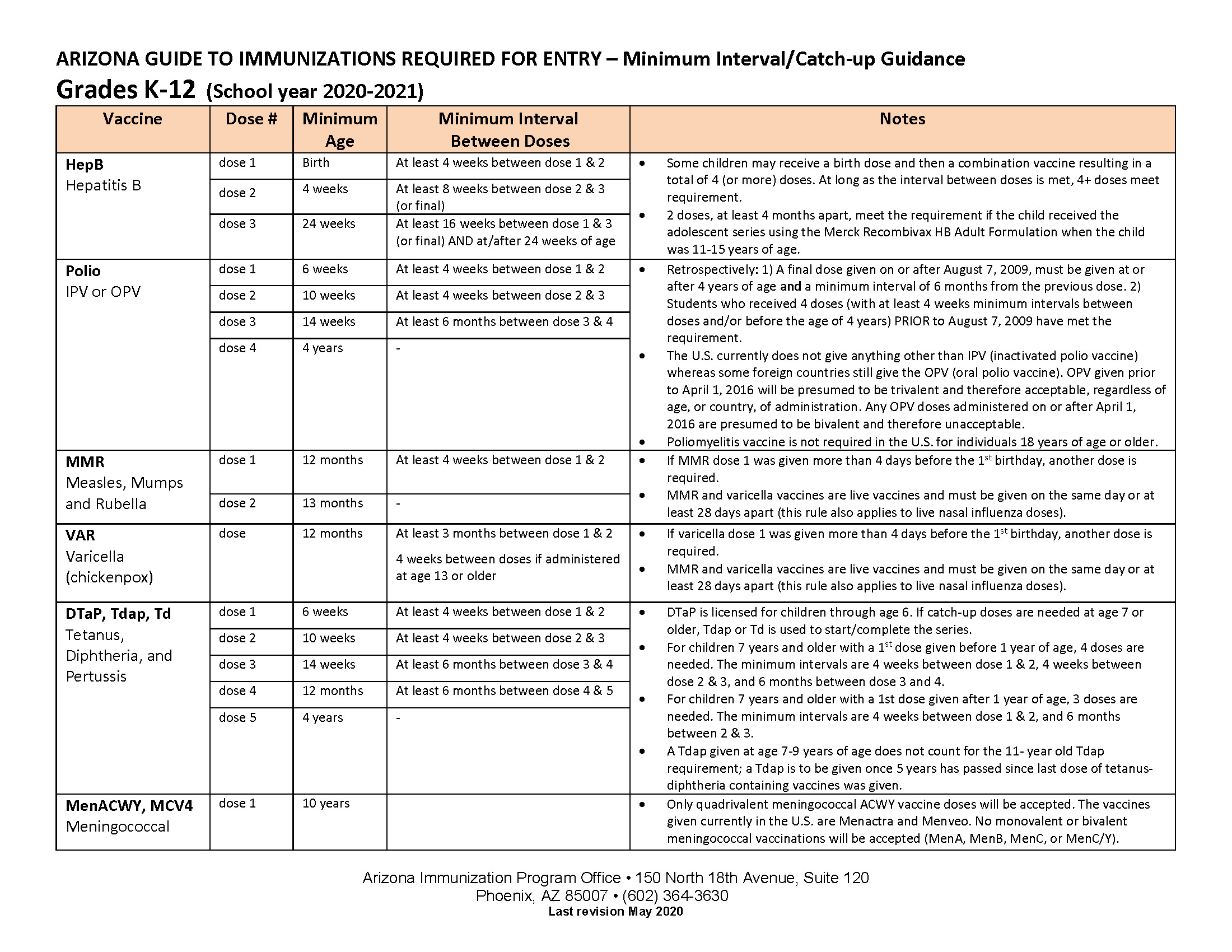 ACTION PLANS AND MEDICATION CONSENT FORMS:
If your child has allergies, asthma, migraines, or seizures and requires an action plan for school, please fill out the appropriate action plan form(s) below. Action plans are usually indicated for children who exhibit mild to severe symptoms with exposure to an allergen and need medications such as Benadryl, Epi-Pen, or Auvi-Q, or children who need medications for the treatment of asthma, migraines or seizures.
If you are unsure if your child needs and action plan, please speak with your child's healthcare provider. Please print and fill out the form (s) below and bring them to your child's health care provider to be completed and signed. Students continuing with Great Hearts Distance Leaning do not need to provide action plan forms and medications unless they plan on returning to on campus learning. Please note the following import information about action plans and medications:
Medication Consent Forms need to be updated annually. Medication Consent Forms are for medications that must be administered at school by health office staff.
Medications must be in their original container, labeled with the student's name and dosing information
We cannot accept expired medications
Portions of the action plans require a healthcare provider's signature. We cannot accept plans without a provider's signature
An adult must drop off medications
Links to Action Plans:
Our health office stocks common over the counter (OTC) medications, they will be administered if we have parental consent, and the nurse has determined necessity of the medication. During enrollment consent for these medications was asked. If you filled out these items during the yearly enrollment process you do not need to fill out a paper copy. If you wish for your child to receive any other OTC medications, please bring them into the health office in the original packaging.
We stock the following over the counter medications: ​
Acetaminophen/Tylenol
Benadryl
Cough Drops
Ibuprofen/Motrin
Hydrocortisone cream
Neosporin
Saline Eye Drops
Tums
FACE COVERINGS/MASKS:
Masks are required for all persons when on campus. They help act as a simple barrier to help prevent respiratory droplets from traveling into the air and onto other people when the person wearing the mask coughs, sneezes, talks, or raises their voice. Masks must fit properly to ensure the health and safety of all students and staff. To ensure the right fit, masks should:
Fit snugly but comfortably against the side of the face and upper cheeks
Be secured with ties or ear loops
Include multiple layers of fabric, not a thin later such as a gaiter
Allow for breathing without restriction
Be secured by pinching the mask at the nose to eliminate gapping and possibility of falling off. Please note that adult masks may be too large for a younger child.
If you have any questions or concerns, please feel free to contact me. Again, we want to support our families and welcoming your children back.
With gratitude,
Sarah Pope
RN| School Nurse